Edwards worked on World Fair, 2000 Gore staff and Sports Authority, among others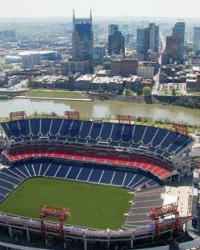 Emmett A. Edwards, a businessman and public servant for more than three decades, died Monday at Vanderbilt University Medical Center due to complications from lung cancer. He was 59.
Born in Covington, Tenn., in May of 1953, Edwards graduated in his high school's first racially integrated class and later attended the University of Tennessee at Martin, where he became well-known via his many activities, including serving as a student counselor to the president of the UT system. He later became the UT board of trustees' first African-American member.
After working for Rep. Ed Jones of Tennessee's 8th District, Edwards started and managed a computer services company in Knoxville. He also held key management positions in the creation and execution of the 1982 World Fair.
Starting in 1987, he was called on by Gov. Ned McWherter to hold senior positions in both the Tennessee Department of Education and the Tennessee Department of Labor. When Bill Purcell was elected mayor of Nashville, Edwards was asked to serve as part of the city's economic development team. In 2000, he served in the national headquarters as an advisor to the presidential campaign of Vice President Al Gore.
More recently, Edwards served the administration of Mayor Karl Dean as executive director of the Metropolitan Sports Authority, which oversees the city's dealings with the Bridgestone Arena, LP Field and their tenants, the Tennessee Titans and the Nashville Predators.
Services for Edwards will be held in Nashville and Covington. The first will be a celebration of life on Oct. 11 at 11 a.m. at the Metropolitan Interdenominational Church at 2128 11th Ave. N. in Nashville. There will also be a graveside service later in Covington.
Visitation will be at the church in Nashville on Oct. 10 from 5 p.m. to 7 p.m., and on Thursday from 10 a.m. until services.
Instead of flowers, the family requests that donations be made to The Emmett Edwards Scholarship Fund and sent to P.O. Box 5, Dresden TN 38225. The Fund targets disadvantaged young people, helpin them attend either UT-Martin or UT-Knoxville.