Celebrate Music City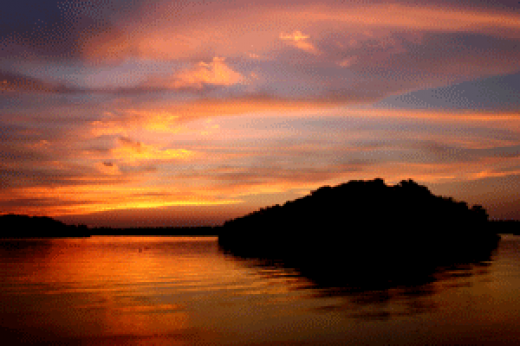 It was the most unlikely of places and of circumstances when I experienced the kind of cold chill that comes unexpectedly from a special moment.
Standing for the national anthem with friends at the first-ever sporting event held at the new Nashville arena (boxing matches promoted by none other than the wild-haired impresario Don King), the chills came as country music-legend George Jones stood alone in the middle of a boxing ring and sang his a cappella version of The Star Spangled Banner.  Not being a country music fan, it was my first time to hear Jones sing live.  His rendition of the anthem (which he later recorded) was resplendent with the range of his voice, which came from the depths of his soul.
That moment came to mind last week while reading the Tennessean's story on the oversized "art guitars" now appearing around town, and then seeing Nashville-based Aussie Keith Urban being interviewed, and later fawned over after performing on NBC's Today show.  The memory was reinforced moments later as I drove down West End Avenue and saw one of the garishly beautiful guitars gracing the brick and concrete entrance sign to the Southern version of an Ivy League school, Vanderbilt University.
It brings to mind what makes Nashville stand out in the world: talent.  Talent is attracted to Nashville because our city is the world class home of Country Music.  Over the years, I have observed Nashville, on occasion, celebrating then hiding from, embracing then shunning, showing pride then embarrassment about the ONE SINGLE THING THAT MAKES NASHVILLE UNIQUE IN THE WORLD
I am not in the "music business"; but as a businessman who has benefited from Nashville's diverse economy, I have always appreciated the enormous contributions which the "business" has provided as part of Nashville's abundant prosperity.
The few folks in the business whom I know personally are, to me, icons of achievement who find ways to give back to their broader community.  Tony Brown, the enormously successful producer who came to Nashville after being a piano for Elvis, is a great example. While serving as president of MCA Records, Tony joined the board of the Tennessee State Museum Foundation and over the years has quietly contributed to many successes at the museum, including lending behind-the-scenes help in securing talent for the museum's largest fund raiser, A Tennessee Waltz.  Tony does a great deal more for the community; these are just things I know of.
Another example is Buddy Killen who has been extraordinarily successful in both music and mainstream Nashville business. After arriving in Nashville from Alabama with only a good upbringing is his pocket, Buddy's contributions have been spread wide, but his generosity is unparalleled when it comes to his favorite non-profit, Easter Seals of Tennessee.
A person with no specific musical talent (as far as I know), but someone who has long served as a bridge between mainstream Nashville and music Nashville is Kitty Moon Emery. Her "song" is tireless energy and boundless enthusiasm for her hometown. Scene Three, Kitty's thriving video company, must seem like a resting place where she stops to balance her schedule of myriad leadership positions in both of Nashville's worlds.  Her passion for the music industry and for Nashville continues to bring those worlds together in musically positive ways.
Others, whom I don't know as well, include Marty Stuart who seems at the beck and call of the Nashville CVB's Butch Spyridon to promote Nashville in every way possible; Mike Curb, whose record label is well-known, along with his renowned philanthropy has just announced efforts to preserve two historic Music Row studios. Singer Vince Gill has made Tennessee one of the top states in the country for youth golf. Vince and songstress wife Amy Grant seem to seek out ways they can both help in making Nashville a better place to live.  I'm sure many Nashvillians know of many others "in the business" who make outstanding contributions as well.
When we have visitors to Nashville, we suggest that when they are dining out they ask their waiter, waitress, server, or bartender: "Do you play or sing?"  Almost every time they will get a knowing response.  Few of us realize the talent that permeates Nashville on every level.  Who knows when the next dishwasher-turned-mega star like Garth Brooks may be bringing us our dinner.
We should celebrate every day that we live in a city unlike any other in the world.  You may have your suggestions of how best to celebrate, but I will start with a couple: First: Keep the art guitars forever. Second: Make sure our new downtown baseball stadium celebrates music even if the salute is in the form of another guitar-shaped scoreboard.
Thanks to all of those who make Music City USA a place to celebrate. May we all get a few "cold chill" experiences every now and then.  There's nothing like it to remind us how truly lucky we are.
Bo Roberts is a Nashville businessman and managing partner of Roberts Strategies.