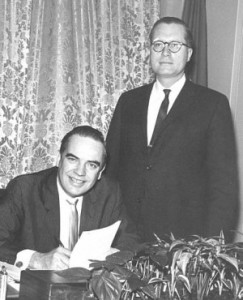 Grey was the overwhelming, predominant hair color amidst the mostly male crowd gathered recently to celebrate the life of our mutual, just-departed friend, William L. (Dick) Barry of Lexington, TN.
Appropriately, we congregated in the House of Representatives chamber, where Dick served two distinguished terms as Speaker (1961-65). We all sat captivated by Dick's commanding voice as an audiotape of his first acceptance speech echoed throughout the hallowed hall. Serving as emcee of the occasion was Republican lawmaker Rep. Steve McDaniel of Lexington, who had a special relationship with his Democratic predecessor. Theirs was a friendship based on respect (Steve was the first Republican Dick ever voted for), a love of history and a passion for the Volunteer State.
The group was enthralled with the recollections about Dick's quiet influence from Judges Frank Clement and William Koch and moved by the eloquence of former governor Winfield Dunn and Anne Wagner, daughter of former governor Buford Ellington, as they honored this elder statesman prior to Sen. Douglas Henry's powerful and fitting delivery of the legislature's joint resolution.
Enthusiasm for history was the binding force for many in this particular audience, as most in the room were themselves a force in shaping Tennessee's political history.
Following Dick's tenure in the legislature, he served as an assistant attorney general, but it was his service in government's executive branch where I felt privileged to work beside him. As legal counsel, Dick handled the legislative side of things on Gov. Ellington's staff while I looked after the departments and administrative side. As a youngster/newcomer to that level of government, I benefitted immensely from Dick's solid, subtle mentorship while he delighted in noting that, in four years as colleagues, we never had a cross word.
Shortly after Ellington's term concluded, though, Dick orchestrated what is still considered one of most significant "coups" ever in Tennessee governmental history. Prior to the inauguration of Governor-elect Dunn (the first Republican governor in 50 years), the majority legislative party held its Democratic caucus nomination for constitutional officers. To the surprise of many, fresh political operative Floyd Kephart (running on a more partisan, more political platform) won the comptroller nomination, seemingly ousting legendary veteran Bill Snodgrass.
But, behind-the-scenes Dick moved swiftly to counsel with like-minded Democrats and Republicans to create a progressive coalition to overturn the caucus vote and re-elect Snodgrass. While a shock to the political system, Dick's triumph kept our state from straying from its well-honed, strong, honest approach to government. It's not coincidental that Snodgrass' name is today chiseled on the state's imposing Tennessee Tower.
And, that was just one instance where Dick Barry demonstrated his reverence for history while acting to change how it'd be written in the future. Respect was the currency Dick dealt in and he gave as good as he got. His actions then should serve as a potent reminder for all current office holders, lest they forget that our hair wasn't grey back then either.
Bo Roberts is a Nashville strategy and marketing consultant, bo@robertsstrategies.com.