The Case for Sports (and a domed stadium) for Nashville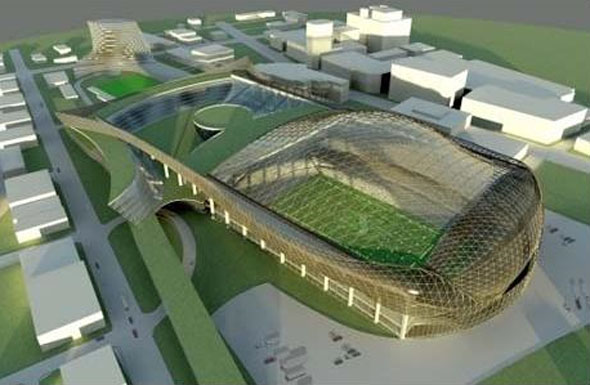 When NashvilleNext, the community-driven process for guiding Metro Nashville through 2040 recently began pondering what we should look like as a city 27 years from now, one indelible image came to mind: a climate-controlled football stadium.  Our own Music City Dome?
First, let me document precisely how sports have broadened Nashville's appeal and the profound impact which sporting events have had in elevating Nashville to its freshly anointed "It" city status. Having been a resident here since 1985 and an active participant in Music City's business, civic and sports communities, I feel qualified to offer an opinion.
It all began more than 20 years ago when then-mayor and sports enthusiast Dick Fulton formally organized the Nashville Sports Council (NSC), which celebrates two decades in existence on March 7 with its Pepsi Celebration of Champions presented by Kroger. When the awards celebration convenes at the Grand Ole Opry next week to announce its 2012 winners, attendees will also enjoy an all-encompassing salute to the top 20 sports events staged here since 1993. (Tickets are available at the door or contact ebest@nashvillesports.com).
Arena the Catalyst
During those years, a mayor who was not the least bit sports-oriented imagined a new arena as the single most vital element in the redevelopment of Nashville's downtown district. Then-mayor Phil Bredesen's far-reaching vision that such a facility would serve as the crucial driving economic development force to spur downtown redevelopment was  right on target. As part of the arena development plan, the Country Music Hall of Fame moved to the area now known as SoBro, followed by a host of other economic "drivers" including the Hilton hotel, The Palm restaurant, the Schermerhorn Symphony Center and on and on.
Those of you who lived in Nashville in the '90s might recall the bleak state of lower Broadway, populated as it was then primarily by a surfeit of x-rated businesses while pausing now to marvel at the incredible amount of territory we've covered in the intervening years.
It was a real breakthrough when the Nashville Predators arrived in 1998 as the anchor tenant for the city's new, architecturally imposing arena. A year later, the Houston Oilers came a'callin'. Mayor Bredesen, scorched by an earlier flirtation with the New Jersey Devils management when they parlayed their far-fetched move to Nashville into construction of a new arena there instead, said he would only proceed with an "exclusive right to negotiate."  We all know the outcome of that decision: a stadium referendum vote with a resounding 60% of the vote. Do you remember Nashville without the Titans? While they may be struggling on the field a bit now, sold-out throngs continue to make their way to LP Field for NFL football.
Runners, Bowl Games and More
Another major sporting event created and developed during this period was the now- nationally recognized Country Music Marathon and Half-Marathon. What would April be in Nashville without the more than 30,000 fleet-footed athletes descending here to pound the streets in this highly popular, music-accented race?
Following the stadium's completion, the far-sighted folks at the Sports Council decided to pursue and develop a bowl game. And, presto, the Music City Bowl was born in 1998, and a separate corporation (same staff) formed. The ultimate impact of holding those contests during what is usually the year's slowest tourism week; quite significant, I'd say. The bowl has transcended into one of the top non-BCS level games, often leading the pack in three key rankings: out of town visitors, television ratings and economic impact (over $214 million and counting).
The NSC has also presented four college football games at the stadium with a fifth coming this fall: the season-opener between Western Kentucky and Kentucky, a match–up featuring the debut of both teams' new head coaches.
The return of the SEC men's basketball tournament here this month kick-offs a three-out-of-four year stay for that tournament, interrupted only by the 2014 Women's Final Four, while marking the NSC's 29th post-season basketball event. We enjoyed several notable NCAA March Madness events as part of that count, too. Additionally, the organization has recruited national figure skating and gymnastic events for Nashville, generating a total economic impact exceeding $100 million. The more one tracks the numbers the more mind-boggling they seem.
Sports Industry a Player
Is all this to say that sports are the single most important activity which have occurred in Nashville during the past 20 years? No, but a compelling, definitive case can be made regarding the relevance of sports and world-class facilities. Obviously, they're a solidly undeniable economic factor for the region, and surely represent one of the lifestyle components influencing Nashville's designation as one of the America's hottest cities.
The NashvilleNext folks should certainly consider drafting and wholeheartedly embracing sports as one of the main centerpieces of their exciting envisioning plan. The major economic impact and the lifestyle enhancements for thousands of residents and visitors are simply undeniable. Readers should note that the impact figures cited here only reflect the directly sponsored NSC events. We haven't even begun to account for the additional millions (billions?) more collectively generated by the Predators, Titans, and area colleges or the astounding revenue numbers which the arena's music events can claim.
Sporting events in downtown Nashville are now spectacularly successful because our ever-changing downtown "campus," with its multitude of hotels, restaurants and entertainment offerings, is enticing fans from across the nation to visit Music City. Though they may be initially drawn by the sports activities, there's no question that the fans also patronize the city's other attractions during their stays. The outstanding effort led by the Nashville CVB to brand us as "Music City," with all that our unique music industry provides, undoubtedly sets us apart from every other city anywhere in the world.
Buoyed by these extraordinary successes, what should a dynamic, thriving sports landscape look like in the mid-state a quarter of a century from now?
First, I believe there will eventually be a new, first-class baseball stadium downtown, and, secondly and more long-term, a climate-controlled, domed stadium, as well. Such a facility would bring a plethora of possibilities: an SEC championship football game, a national college championship football game and, hold onto to your seat licenses, friends—yes, even a Super Bowl. To this one could add the Music City Bowl competing for ongoing national semi-finals games, winter and spring soccer matches without weather concerns, the NCAA Men's Final Four and…well, toss the imagination ball as high and wide as you can. Regardless, I'm certain that there'll be plenty to cheer about.
The economic payoffs would be enormous not to mention the additional lifestyle choices, which would be pretty cool, too. Let's think BIG, Nashville. Based on where we were not too long ago, it seems that thinking big no longer means "just dreaming" big.