'82 World's Fair may hold lesson for Trump and North Korea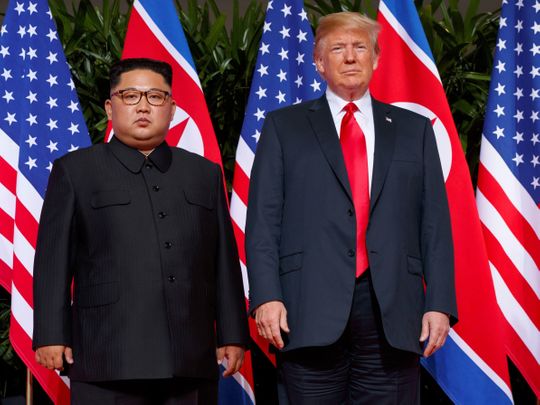 Maybe, just maybe (based on a personal experience years ago), there might be some hope in President Donald Trump's recent meeting with Kim Jong Un, North Korea's leader.
As one who detests the performance of just about anything Trump does, and as an American, I truly hope this venture is successful beyond the momentous photo opportunity it provided for both participants.
Donald Trump, Kim Jong Un
President Donald Trump poses with North Korean leader Kim Jong Un on Sentosa Island, in Singapore, at the historic summit on Tuesday. AP President Donald Trump poses with North Korean leader Kim Jong Un on Sentosa Island, in Singapore, at the historic summit on Tuesday. (Photo: Evan Vucci, AP)
My aspirations stem from my unanticipated venture into international events starting in 1980 when President Jimmy Carter announced that the U.S. would boycott the Summer Olympics slated for Moscow later that year. I was CEO of the 1982 World's Fair in Knoxville, and the Soviet Union was already constructing what was projected to be the largest (and anchor) exhibit at our event. Soon after Carter's announcement in March, however, we were informed that the "Russians weren't coming."
We immediately pivoted our efforts to the People's Republic of China, which had never participated in a World's Fair. Following many visits and after calling in every possible political favor, we recruited China, which became by far the most popular pavilion at the fair. However, the reason for my hope now stems from my first visit to China in 1980.
Want to submit your letter to the editor? Here is how. Wochit
I was hosted by their government, which was just over a decade removed from that nation's devastating "Cultural Revolution," which essentially deprived an entire generation from being educated while shutting them off from the world.
I noticed as I was being driven into town from the Beijing airport that the main thoroughfare was crowded with masses of bicycles, more than 80 percent bicycles, the primary mode of transportation, and that almost everyone was dressed in either blue or olive green "Mao" suits.
FILE – In this Feb. 5, 1972 file photo, U.S. President Richard Nixon shakes hands with Communist leader Mao Tze-tung during Nixon's historic trip to Communist China. The two countries had no relations whatsoever from 1949, when Mao Zedong's communists took power, to 1979, when Jimmy Carter and Deng Xiaoping established diplomatic ties that have endured through good times and tension ever since. The relationship is usually cordial, but the long game is one of unease: China has long believed the United States is trying to contain it, and Washington views Beijing's economic heft and increasing presence on the world stage as a strategic and economic threat. (AP Photo/File)
(Photo: The Associated Press)
On my first night there, my hosts took me on a tour of China's capital city, proudly pointing out certain restaurants where U.S. President Richard Nixon had made a significant toast during his unprecedented 1972 visit to China.
This pattern, which continued throughout my visit, led me to recognize the depth and lasting impact that Nixon and Secretary of State Henry Kissinger made during their journey there. Just like today, if a Democratic president had made that visit then, the right-wingers would have eviscerated whomever had reached out to "Communist China."
My Chinese hosts, who also became my friends, felt an incredible sense of pride and self-worth because the leader of the free world had honored them with his presence. If the North Korean media provide the story factually to their audiences, then perhaps the citizens of that country might also experience a similar sense of dignity and respect as result.
My wish for hope may be naive based on the unpredictable, impolitic and often discourteous behavior of our president. But, even if the chances are slim, I'm pulling for him … and, for all of us … this time.
Bo Roberts is a Nashville-based marketing consultant. bo@robertsstrategies.com.